Baca Bareng BBI April Tema Travel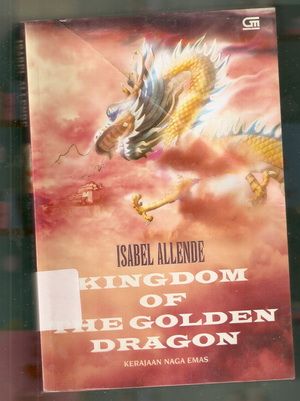 Judul: Kingdom of The Golden Dragon - Kerajaan Naga Emas | Seri: Eagle and Jaguar #2 | Pengarang: Isabel Allende | Penerbit: Gramedia Pustaka Utama | Edisi: Bahasa Indonesia, Cetakan I, Jakarta, Maret 2012 | Jumlah halaman: 360 halaman | Status: Pinjem di Perpustakaan Daerah Kota Banjarbaru | Rating saya: 4 dari 5 bintang
***
Kembali ikut jalan-jalan bersama neneknya Alexander, "jangan panggil aku nenek" Kate. Kali ini, Kate bersama tim International Geographic-nya mendapat tugas untuk meliput tentang patung Naga Emas yang katanya bisa meramal masa depan. Patung ini ada di sebuah negeri yang terletak di pegunungan Himalaya. Karena untuk masuk ke wilayah kerajaan ini sangat sulit, maka kerajaan ini disebut Negeri Terlarang.
Kali ini Alexander ikut tanpa diajak. Sebagai kejutan untuk cucunya, Kate pun mengajak Nadia, gadis elang, yang terbukti sangat tangguh di petualangan sebelumnya. Dan seperti sebelumnya, kalau ada si Elang dan si Jaguar (Alex), maka perjalanan Kate dan timnya bukan hanya sekedar menikmati pemandangan alam dan meliput berita.
Benar saja, berawal dari penculikan Nadia dan 5 gadis lain, Kerajaan Terlarang yang sebelumnya aman dan tenteram mulai bergejolak. Menghilangnya gadis-gadis ini diduga berkaitan dengan sebuah sekte yang menamai diri mereka Sekte Kalajengking. Sekte ini jahat dan memiliki anggota yang semuanya berkulit biru. Mereka memiliki keterampilan untuk menggunakan pisau secara mematikan. Mereka memang sering menculik gadis-gadis tapi tidak pernah beroperasi sebelumnya di Kerajaan Terlarang.
Dalam perjalanannya mencari Nadia, Alex bertemu dua orang biksu yang tinggal di salah satu dataran tinggi Himalaya. Mereka adalah guru dan murid. Yang guru bernama Tensing. Tensing adalah seorang biksu bertubuh kekar yang tingginya sekitar 2 meter namun memiliki wajah yang teduh. Sedangkan si murid bernama Dil Bahadur, biksu tampan yang ternyata adalah calon raja dari Kerajaan Terlarang.
Dengan bantuan kedua biksu tersebut, Alex berhasil menyelamatkan Nadia dan gadis-gadis lain. Namun, petualangan mereka tampaknya belum berakhir. Karena penculikan gadis-gadis ternyata hanyalah sebuah pengalih perhatian. Tujuan sebenarnya para penjahat ini ternyata adalah patung Naga Emas. Namun, sudah menjadi rahasia umum kalau patung Naga Emas hanya bisa digunakan oleh sang Raja. Dan itu berarti keselamatan sang Raja juga terancam. Dan kalau Naga Emas dan Raja terancam, maka nasib seluruh negeri juga terancam.
Di buku ini, petualangan Alex dan Nadia semakin seru. Mereka berdua kembali bertemu dengan Yeti, tapi kali ini versi Asia, sedikit berbeda dengan Yeti versi Amazon. Tapi Yeti juga berperan penting di sini. Sama dengan yang di Amazon.
Tensing dan Dil Bahadur keren sekali. Sebagai seorang biksu, mereka berdua memiliki kemampuan spiritual yang luar biasa. Sangat cocok dengan Alexander dan Nadia. Kejadian-kejadian mistis yang ada di petualangan ini lebih masuk akal.
Pemandangan alam Himalaya yang dideskripsikan selama perjalanan mereka luar biasa. Walaupun perjalanan ke sana susahnya minta ampun.
Membaca acara jalan-jalan Kate ini memang bikin ngiler deh. Kemarin pengen ke Amazon sekarang jadi pengen ke Himalaya juga. Alamnya tampaknya memang alami dan belum tercemar. Keren deh asal udara dingin dan tipisnya oksigen di sana bisa diabaikan.
Yang lucu di sini adalah saat para fotografer tim National Geographic (ingat Timothy dan Joel, ya Joel sudah sembuh pasca tulang rusuknya diremukkan oleh Anakonda Amazon), pulang melaksanakan tugas mereka tanpa Kate yang sibuk berusaha menyelamatkan Nadia. Mereka menceritakan pengalaman jalan-jalan mereka yang berhasil menjelajahi bagian-bagian yang paling sulit dijangkau di kerajaan tersebut. Dan juga kegembiraan mereka karena berhasil memotret anggrek-anggrek langka dan panda. Namun keduanya langsung terdiam ketika Kate balas menceritakan pengalaman Alex dan Nadia untuk menyelamatkan kerajaan.
At last, saya telat bikin post untuk posbar bulan ini. Gara-gara ada tugas luar mendadak untuk pergi ke daerah agropolitan di salah satu kabupaten. Dan sialnya (atau untungnya) saya baru membaca buku ini dan terlanjur ngiler dengan acara jalan-jalan Kate dan cucunya. Jadinya ya diiyakan saja. Meskipun pemandangan dan cuacanya bukan ala Himalaya, tapi saya cukup senang. Udara panas tidak mengurangi kesejukan wilayah agropolitan itu. Pemandangan tanaman hortikultura yang berjejer juga sangat indah *jadicurhat*
Ehm, so, selamat berjalan-jalan ke Himalaya dengan tim National Geographic. Dan 4 dari 5 bintang untuk Kingdom of The Golden Dragon.
I really liked it
('▽'ʃƪ) ♥