BACA BARENG BBI JUNI TEMA FAIRY TALE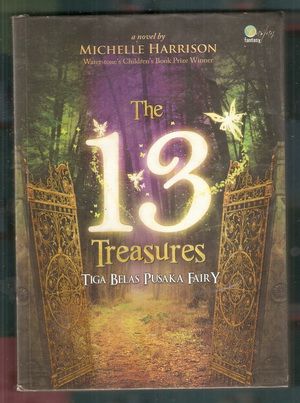 Title:
The Thirteen Treasures --- Tiga Belas Pusaka Fairy
|
Author:
Michelle Harrison
| Edition language:
Indonesian
| Publisher:
Dastan Books (1st edition, Jakarta, January 2012)
|
Page:
256 pages
|
Date purchased:
August, 16th 2012
| Purchase location:
Dastan Online
|
My rating:
3 of 5 stars
Sinopsis:
Jangan memercayai fairy... Jangan menulis tentang fairy...
Jangan pernah membuat fairy marah...

Tanya bukanlah seorang gadis biasa. Ia memiliki penglihatan kedua yang membuatnya bisa melihat fairy, namun bukan fairy seperti yang ada dalam dongeng, melainkan fairy jahat yang bisa mengutuknya, mengganggu tidurnya, dan menyakitinya. Bagi Tanya, kemampuannya ini seperti kutukan karena selalu membuatnya mendapat masalah. Setelah kejadian yang menghancurkan kamarnya, ibunya memutuskan untuk menghukumnya dengan mengirimnya ke rumah neneknya, Elvesden Manor.

Dengan terpaksa, Tanya menerima hukumannya untuk tinggal di sebuah manor terpencil dan kuno dengan lorong-lorong bawah tanah yang misterius. Satu-satunya teman Tanya adalah Fabian, putra pengurus manor yang aneh. Namun, sejak Tanya menemukan guntingan koran yang menyebutkan bahwa ada seorang gadis yang hilang di Hangman's Wood lima puluh tahun yang lalu, liburannya menjadi tidak membosankan.

Ternyata hilangnya gadis itu berhubungan dengan masa lalu nenek Tanya dan kakek Fabian. Sikap nenek Tanya yang tidak mau menceritakan gadis yang hilang itu membuat Tanya penasaran, sedangkan kakek Fabian yang dituduh terkait dengan hilangnya gadis tersebut mengalami gangguan jiwa yang membuat Fabian bertekad untuk menemukan rahasia di balik semua itu.

Apakah sebenarnya misteri yang ada di Hangman's Wood? Mampukah Tanya dan Fabian menyingkap teka-teki hilangnya gadis itu? Dan dari manakah sebenarnya kemampuan Tanya untuk melihat fairy berasal, dan bisakah kemampuan itu membantu memecahkan misteri yang menyelimutinya?


Cerita tentang fairyyy.......yap inilah yang membuat saya dulu memutuskan untuk membeli buku ini.
Dulu waktu pertama kali membaca, saya kecewa dengan buku ini. Rasanya susah sekali untuk masuk ke dalam ceritanya. Saya juga tidak suka dengan Tanya dan neneknya. Somehow dulu saya merasa mereka berdua ... errr... sedikit pengecut. Dan saya tidak mengerti kenapa judul buku ini adalah 13 Pusaka Fairy, karena IMO, ketiga belas pusaka itu hanya numpang lewat saja di cerita ini.
Tapi setelah saya baca ulang hampir dua tahun kemudian, kesannya jadi beda. Meski ini bukan jenis buku yang "you just can't put it down", tapi ceritanya jadi lebih seru.
Ceritanya sendiri berawal dari Tanya yang dengan terpaksa dititipkan ibunya ke rumah neneknya karena ibunya sudah tidak tahan dengan kejadian-kejadian aneh yang terjadi di sekitar Tanya. Ibunya mengira apa yang terjadi hanyalah sikap Tanya yang sengaja mencari perhatian. Padahal sebenarnya Tanya diganggu para fairy usil. Dan Tanya sangat frustasi karena tidak bisa menceritakan hal itu kepada siapapun.
Tanya tidak suka berada di rumah neneknya. Tanya merasa sang nenek tidak menyukainya. Belum lagi rumah nenek yang sangat besar dan bergaya kuno. Terletak di daerah terpencil dan dikelilingi hutan yang bernama Hangman's Wood. Tipikal rumah fantasi banget ya. Dan jelas lah di sana ada lebih banyak fairy dan makhluk-makhluk magis lain.
Untungnya Tanya tidak sengaja menemukan sebuah buku tentang bagaimana caranya melindungi diri dari gangguan fairy. Bersama buku itu, Tanya juga menemukan potongan koran tentang seorang gadis cantik yang hilang di Hangman's Wood lima puluh tahun yang lalu.
Tapi tetap saja, tidak ada yang menarik yang bisa dilakukan di sana. Belum lagi disana ada Fabian, putera pengurus rumah yang suka memata-matai Tanya.
Tanya juga tidak tertarik masuk ke Hangman's Wood mengingat di sana ada banyak katakomba dan sudah bukan rahasia lagi kalau banyak orang hilang di sana.
Sampai akhirnya anjing Tanya, Oberon tidak sengaja masuk ke hutan. Tanya dan Fabian yang bermaksud mengejar Oberon tiba-tiba tersesat. Di hutan, mereka bertemu seorang gadis cantik dengan gaun hijau dan rambut sehitam bulu gagak. Gadis itu mengatakan kalau dia baru saja melihat Oberon, namun ketika Tanya dan Fabian mengikuti gadis itu, Ayah Fabian, Warwick, tiba-tiba muncul dengan membawa Oberon. Si gadis pun tiba-tiba menghilang.
Tanya menganggap kejadian itu hanyalah hal biasa. Tapi suatu malam, Tanya menemukan penyusup di rumah neneknya. Seorang gadis pelarian berambut merah dan bermata hijau bernama Red. Red membawa seorang bayi. Ketika Tanya melihat wajah bayi tersebut, Tanya melihat kalau bayi itu bukanlah bayi biasa. Bayi itu adalah bayi fairy.
Dari Red, Tanya akhirnya mengetahui siapa dia sebenarnya dan kenapa dia bisa melihat fairy. Tanya juga tahu kalau ternyata manusia dan fairy bisa ditukar dan apa alasan Red membawa-bawa bayi fairy bersamanya. Dan Tanya akhirnya menyadari siapa gadis yang dia temui di hutan.
Bersama Fabian, Tanya bermaksud menyelamatkan gadis di hutan tersebut, sekaligus membersihkan nama kakek Fabian yang dianggap telah menyebabkan hilangnya si gadis.
Dengan nekat, kedua anak ini masuk ke hutan. Tanpa menyadari sama sekali kalau Tanya sendirilah yang seharusnya mereka selamatkan.
Awalnya cerita petualangan Tanya terasa datar. Petualangannya hanya sebatas di rumah neneknya dan bertemu dengan makhluk-makhluk yang minim memberikan informasi.
Petualangan mulai terasa seru saat Tanya bertemu Red dan Tanya masuk ke hutan. Setelah membaca ulang kedua adegan ini, pandangan saya terhadap Tanya dan neneknya jadi berubah. Yang awalnya saya bilang mereka sedikit pengecut, jadi ... nggg ... bisa dimaklumi. Terutama setelah membaca kata-kata Tanya yang dia katakan kepada gadis di hutan, yang sayangnya kalau saya tuliskan, akan jadi spoiler :D
Tapi ada satu kata-kata Fabian yang cukup berkesan. Ketika Tanya menanyakan kepadanya tentang kakeknya yang dituduh telah membuat gadis di hutan menghilang:



"Bagi orang Tickey End, tuduhan sama bagusnya dengan bukti... karena suatu tuduhan akan terus melekat. Orang akan selalu melihatmu sambil bertanya-tanya apakah ada kemungkinan kau benar-benar melakukannya."



Yaahhh, saya tidak bisa membayangkan bagaimana kalau jadi kakeknya Fabian atau jadi Tanya. Ketika kita tidak bisa membuktikan kepada orang-orang tentang apa yang sebenarnya terjadi hanya karena orang lain tidak mampu melihat apa yang bisa kita lihat. Dan meskipun bukti yang menunjukkan kalau kita tidak bersalah juga tidak ada, tapi kita selamanya akan menjadi tertuduh atas sesuatu yang sebenarnya tidak kita lakukan *ribetmodeon*
At last, rating saya untuk buku ini jadi naik. Dari 2 menjadi 3 dari 5 bintang. Eh, cuma naik satu bintang ya. Soalnya saya belum bisa menemukan alasan kenapa judul buku pertama ini 13 Pusaka Fairy. Mengingat ketigabelas pusaka ini cuma numpang lewat dan masalah sebenarnya ada di Hangman's Wood.