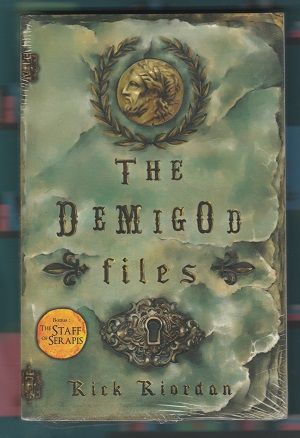 ***
Di Indonesia, The Demigod Files terbit lebih telat daripada The Demigod Diaries. Yah, just FYI, buku dengan cover unik ini ternyata versi aslinya terbit lebih dulu daripada sesama companion book-nya tersebut. The Demigod Files adalah companion book dari seri Percy Jakcson and The Olympians, sedangkan The Demigod Diaries adalah companion book dari seri The Heroes of Olympus.
Untunglah setelah membaca buku keempat PJO, saya berkunjung sebentar ke websitenya
Rick Riordan
dan menemukan info lengkap mengenai klasifikasi buku-buku Percy dan menemukan kalau The Demigod Files sepertinya ber-setting di antara buku ke-empat dan ke-lima seri PJO. Sebelumnya saya berencana membaca The Demigod Files setelah The House of Hades gara-gara The Staff of Serapis yang seingat saya terbit sebelum The Blood of Olympus.
The Demigod Files sendiri berisi sebuah surat dari perkemahan blasteran, 3 cerita petualangan Percy, 5 wawancara dengan penghuni perkemahan blasteran dan bonus cerita Tongkat Serapis yang merupakan kisah persilangan antara Sadie Kane dan Annabeth.
Salah satu cerita petualangan Percy adalah tentang Naga Perunggu. Nah, saya pernah menyinggung-nyinggung soal siapa yang menjaga batas perkemahan sebelum ada pohon Thalia. Meskipun sekilas saya berhasil menemukan jawabannya di buku The Titan's Curse, tapi ternyata jawabannya lebih jelas ada di cerita ini.
At last, saya tidak tahu mau menulis apa lagi tentang companion book ini. Lumayan seru. Asalkan ada Percy sih saya pasti bakalan bilang suka :D. So, 4 dari 5 bintang deh. I really liked it.
***
Judul: The Demigod Files | Seri: Percy Jackson and The Olympians Companion Book | Pengarang: Rick Riordan | Edisi: Bahasa Indonesia, Cetakan II, Juli 2014 | Penerjemah: Nur Cholis | Jumlah halaman: 272 halaman | Status: Owned book (Banjarbaru Book Fair 2015) | Rating saya: 4 dari 5 bintang