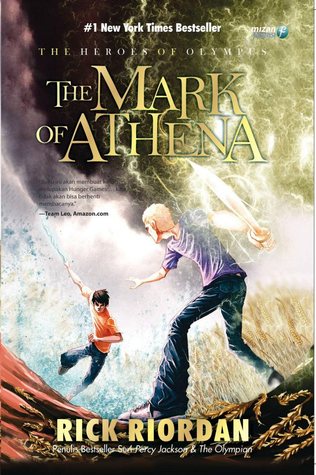 ***
Kesan saya setelah reread The Mark of Athena? Oh ya saya kira saya sudah tahu bagaimana kisahnya. Tapi ternyata saya lupa. Setelah dicek ternyata dulu saya membaca ini di tahun 2012. Well, sudah lumayan lama juga. Saya hanya ingat detail awal dan akhirnya saja. Yang tengah-tengah hanya ingat samar-samar.
So, syukurlah, saya bisa merasakan kembali keseruannya. Well, tapi saya bingung mau menceritakan apa lagi di The Mark of Athena. Saya rasa endingnya-lah yang patut diacungi jempol. Saya masih ingat betapa merasa ...errr... tergantunginya saya waktu pertama kali membacanya. Menunggu terbitnya buku lanjutannya terasa begitu lama. Bahkan setelah The House of Hades terbit, saya tetap tidak berani membacanya. Saya memutuskan untuk menunggu Blood of Olympus terbit dulu, baru membaca The House of Hades.
Seperti judulnya, The Mark Athena menceritakan tentang Tanda Athena yang membimbing 7 demigod kita untuk mengikuti tandanya. Sayangnya, tanda ini hanya bisa dilihat oleh Annabeth, selaku putri Sang Dewi. Dan Annabeth jugalah yang ujung-ujungnya harus menuntaskan misi ini sendiri.
Sayangnya, sejarah mengatakan putra-putri terpilih Athena yang sebelumnya tidak ada yang pernah berhasil menuntaskan misi tersebut. Tapi pertaruhannya begitu besar. Kalau Annabeth berhasil, maka Annabeth bisa membawa kedamaian antara Yunani dan Romawi.
Berhasilkan Annabeth? Well, silakan baca sendiri deh. Yang pasti siap-siap saja sama ending yang gantung.
At last, tetap 5 dari 5 bintang untuk The Mark of Athena. Selalu untuk Percy dan kawan-kawan :)
***
Judul: The Mark of Athena | Pengarang: Rick Riordan | Penerbit: Mizan Fantasi | Edisi: Bahasa Indonesia, Oktober 2012 | Status: Owned book | Rating saya: 5 dari 5 bintang