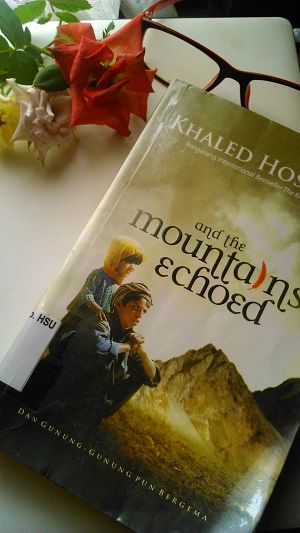 ***
...bagaimana pilihan yang kita ambil akan bergaung hingga ke generasi selanjutnya. Bagaimana cinta yang tulus akan bergema ke seluruh semesta, memanggil jiwa-jiwa yang kehilangan belahannya.
Demi apa coba, saya menemukan satu buku bagus lagi di perpustakaan daerah. *peluk gedung perpustakaan*
Meskipun kurang menguras air mata dibandingkan The Kite Runner dan A Thousand Splendid Suns, tapi The Mountains Echoed juga sanggup mengaduk-ngaduk emosi. Saya lagi-lagi speechless pasca membaca buku ini.
Ini kisah tentang kehidupan keras di Afganistan. Kisah yang menyadarkan saya untuk mensyukuri apa yang sudah Tuhan titipkan kepada saya.
Cerita diawali dengan kisah perpisahan antara Abdullah dan adik kesayangannya, Pari. Kesulitan hidup memaksa ayah mereka untuk menjual Pari kepada pasangan keluarga kaya. Kesedihan Abdullah karena kehilangan Pari seakan bergaung ke seluruh semesta. Tapi Abdullah masih punya harapan, dan terus berjalan.
Awalnya saya sedikit bingung karena setelah kisah Abdullah dan Pari, cerita beralih ke kisah ibu tiri mereka. Kemudian cerita beralih lagi ke Paman Tiri mereka, dan begitu seterusnya. Tapi kisah mereka semua berhubungan. Cerita bahkan melintasi generasi dan juga benua. Merambat ke orang-orang asing bagaikan gema.
At last, bukunya bagus banget kalau menurut saya. Judul dan filosofinya juga keren. 4 dari 5 bintang untuk The Mountain Echoed. I really liked it.
***
Judul: And The Mountains Echoed - Dan Gunung-Gunung Pun Bergema | Pengarang: Khaled Hosseini | Penerbit: Qanita | Edisi: Bahasa Indonesia, Cetakan III, Februari 2014, 516 halaman | Status: Pinjam di Perpustakaan Daerah Kab. Hulu Sungai Utara | Rating saya: 4 dari 5 bintang
***
Submitted for