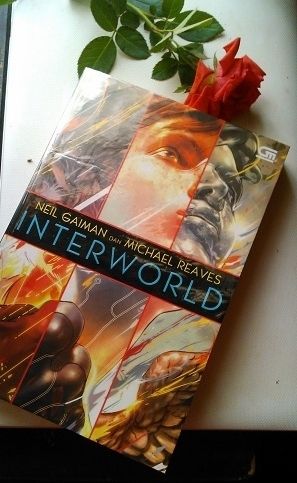 ***
SPOILER ALERT
***
Awalnya seperti Neverwhere, seorang manusia biasa --- atau dalam kasus kali ini --- remaja biasa, dengan kehidupan yang biasa, menghadapi tugas sekolah yang mungkin agak tidak biasa tapi masih bisa dibilang wajar, lalu kemudian tiba-tiba jleb ... remaja itu pindah ke dunia lain, dan kehidupannya yang biasa saja mulai menjadi tidak biasa lagi.
Joey Harker, tiba-tiba bisa melintas antar dimensi. Ditengah kebingungannya, tanpa sadar Joe membuat dirinya sendiri menjadi incaran dua kekuatan besar yang ingin menguasai semua dimensi. Kebetulan menurut mereka Joe adalah Pelintas yang berbakat. Mereka adalah kubu Binary yang mengandalkan kekuatan sains dan kubu HEX yang mengandalkan kekuatan sihir.
Nah, ini keren sekali menurut saya. Ada sihir dan sains sekaligus. Sedikit mengingatkan saya dengan film The Sorcerer's Apprentice dan serial The Librarians.
Diantara dua kubu yang bersitegang itu, ada sebuah pasukan yang bertekad menjaga agar sains dan sihir tetap seimbang. Uniknya, pasukan ini terdiri dari versi-versi diri Joe sendiri dari berbagai dunia. Nah, kalau yang ini jadi mengingatkan saya dengan film The One XD
Kisahnya asik sekali. Ini tipe cerita yang bisa membuat saya penasaran sampai akhir. Apa yang dihadapi Joe benar-benar tidak terduga. Termasuk peristiwa awal yang dialaminya bersama Jay. Wah, sayang sekali, padahal saya sudah mulai suka dengan Jay.
Saya juga suka dengan konsep versi-versi diri Joe yang lain dari berbagai dimensi. Lucunya, versi-versi diri yang lain ini mempunyai nama yang mirip dengan Joe. Tadi sudah ada Jay kan? Nah coba bayangkan nama-nama yang mirip dengan nama mereka. Saya salut sekali karena nama Joe bisa diutak-utik menjadi berbagai nama serupa. Sampai akhirnya ada versi diri Joe yang bernama J'r'ohoho, wkwkwkwk, saya jadi jadi pengen ber-ohohoho juga XD. Ironisnya lagi, J'r'ohoho ini ceritanya lumayan galak.
Awalnya saya sedikit tidak ngeh dengan konsep versi diri yang lain ini. Sampai akhirnya saya menyadari kalau gaya bicara Joe dan Jay mirip. Sama-sama tipe b*go lucu ala Percy Jackson.
Ada satu kutipan yang saya suka sekali dari Interworld. Kutipannya lumayan panjang sih, ini dia:



Entah apakah aku sudah pernah menyebutkan bahwa Melintas ini sama seperti kecakapan apa pun yang kau miliki, yaitu bahwa aku menikmatinya. Rasanya menyenangkan, rasanya benar, menggunakan pikiranku untuk membuka Medan-Antara, untuk melintas dari dunia ke dunia ke dunia. Para jago catur bermain bukan demi uang, atau bahkan demi kompetisi --- mereka bermain karena mereka mencintai permainan itu. Para genius matematika mendapatkan kepuasan bukan dari berkebun --- mereka memainkan dan mengolah teori-teori yang sudah ada di dalam kepala mereka, atau mengkhayalkan bahwa Pi setara dengan bilangan yang tak terhitung banyaknya. Seperti pesenam yang sudah terlatih, kini setelah aku ingat akan kecakapanku, aku gatal ingin menggunakannya.




Aku tidak bisa membayangkan tidak pernah Melintas lagi seumur hidupku.




(Interworld, hlm. 181)



Bagus ya? Kutipannya. Jarang-jarang kan genius matematika dijadikan contoh sebuah kecakapan yang menyenangkan ;)
Oh ya, ngomong-ngomong, lewat buku ini, saya jadi baru tahu kalau Neverwhere ternyata dibuat serial televisinya. Whoah saya jadi penasaran. Dan ngomong-ngomong lagi, Interworld ini ternyata juga buku berseri. Well, sepertinya daftar wishlist saya bakalan bertambah lagi.
At last, saya kasih 4 dari 5 bintang untuk Interworld deh, I really liked it ^_^
***
Judul:
Interworld
|
Pengarang:
Neil Gaiman
dan
Michael Reaves
| Edisi bahasa:
Indonesia
| Alih Bahasa:
Tanti Lesmana
| Penerbit:
Gramedia Pustaka Utama (Cetakan Pertama, Jakarta, Juni 2010)
|
Jumlah halaman:
280 halaman
| Status:
Owned book
|
My rating:
4 of 5 stars